2022 SPEAKERS
More speakers coming soon.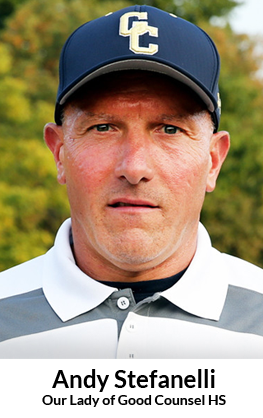 Andy was named Head Coach at Our Lady of Good Counsel High School in March 2017. Andy and his staff have been able to consistently lead their teams to being ranked in the top 100 in the nation each year with a couple of seasons in the top 20.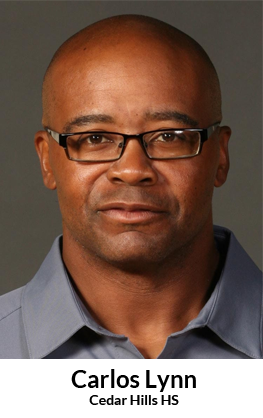 Carlos was named Head Coach at Cedar Hill High School in 2017. Carlos and his staff have accumulated a record of 30-7 over the past 3 seasons. This past season, they were in the Texas 6A Division II UIL State Championship game.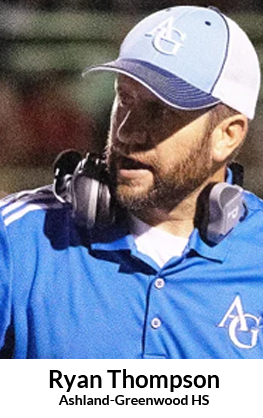 Ryan has been the Head Coach at Ashland-Greenwood High School for 13 years. Ryan and his staff have accumulated a record of 94-40 over that time. He has led the Bluejays to 2 state championship games.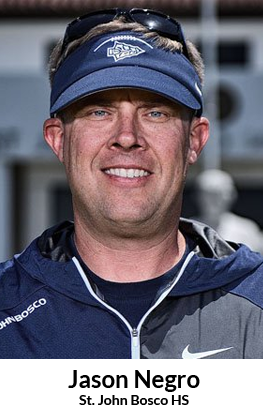 Jason has been the Head Coach at his alma mater, St. John Bosco High School since 2010. His teams are112-24 over the last 10 years and are consistently in the national rankings. Jason has had many honors, among them being named National Coach of the Year.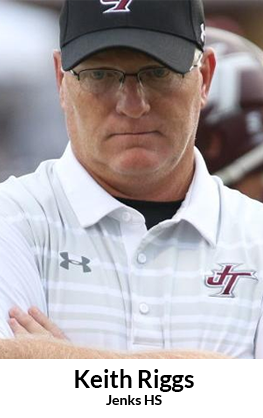 Keith has been the Head Coach at Jenks High School for 3 years. He and his staff have accumulated a record of 30-8 in these years. Coach Riggs has led his team to the State Championship game in each of his first 3 years as the Head Coach.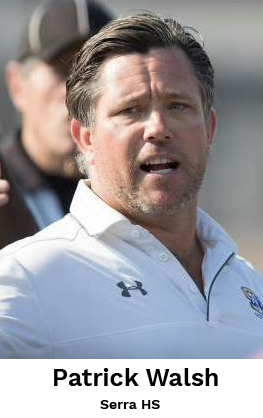 Since taking over the helm of the Padres in the Spring of 2001 at only 26 years old, Patrick Walsh has become synonymous with Serra football.  Walsh, the Padres' all-time winningest coach with 171 victories, led Serra to a 2017 CIF State Championship and has visited the CA State Championship four out of the past six years: 2016, 2017, 2019 and 2021. He was most recently named the 2020/2021 California State FB Coach of the Year for the Padres 5-0 Spring Season and his role as a driving force in the restart of California Youth Sports which literally affected millions of young lives.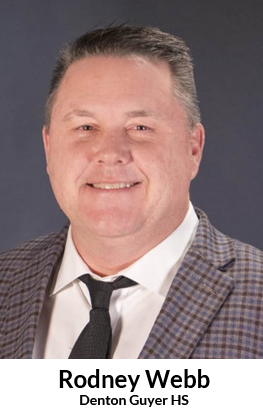 Rodney is currently the Head Coach at Denton Guyer High School in Texas, where they finished the 2020 season in the State 6A Semifinals. He also just passed the 150-career win mark in 2020. He is currently the President of the Texas Coaches High School Association.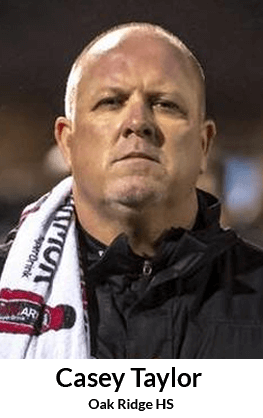 With nearly 250 career wins over his 22 year coaching career, Casey Taylor's programs boast numerous titles, championships and top ten rankings with a generous helping of undefeated seasons. Named "Coach of the Year" multiple times, Taylor is active in his community coordinating youth football camps and 7 on 7 competitions.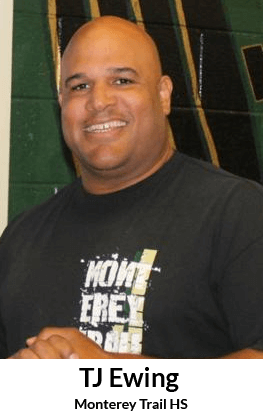 TJ Ewing has been Monterey Trail's Head Football Coach since the school opened in 2004. Since then Coach Ewing and his team have acquired 11 CIF Playoff Appearances, 5 CIF Section Finals and 1 CIF Section Championship. Over his head coaching career, he has received the "Coach of the Year" Honor 8 times. He was a San Mateo High School Hall of Fame Inductee in 2015 and an Eastern Washington University Hall of Fame Inductee in 2017.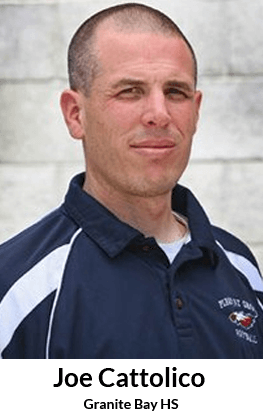 Using football fundamentals to build lifelong relationships and teach life lessons to youth, Joe Cattolico has proven his methodology over the last 22 years with multiple championship teams across several school programs. In his first season as head coach at Granite Bay high school, Cattolico's varsity team finished second in the Sierra Football League.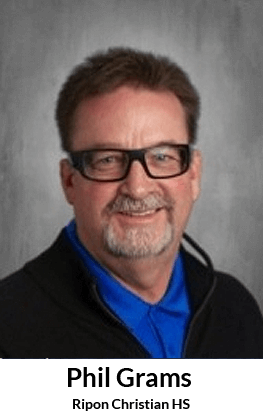 Phil Grams, Head Coach at Ripon Christian High School since March 2020.  23 years coaching football, 60-14 as a HS Head Coach. Assistant & OC at Lawrence University. Head Coach at Capital Christian High School, 4 League Championships & a San Joaquin Section Title.  3-time GEL Coach of the Year.  MaxPreps NorCal Small School Coach of the Year 2014.  Longtime assistant at Granite Bay High School under HC Ernie Cooper.
.
FUTURE SPEAKER SIGN UP FORM
Interested in speaking at a future clinic? Please complete the following information and email headshot picture to info@clinicofchampions.com. We will be putting information on our clinic website and our clinic brochure. We are hoping to get a balance of offensive, defensive, special teams, culture, and program development topics.
CLINIC LOCATION: Grand Sierra Resort, Reno, Nevada
SPEAKER COMPENSATION PACKAGE: $100 per speaking session. Speaker may bring one assistant coach to clinic free of charge.